The Bedford Park Festival in Chiswick is one of London's best-loved arts and community events, attracting thousands of people of all ages. It's been organised for 54 years by St Michael & All Angels Church to raise money for its work and its three chosen charities - and we weren't going to let COVID-19 stop us!
The 2020 Festival is over but you can catch up with most events on our Streaming now: Festival catchup page.

And do watch the video of Dear Lord and Father of Mankind - The Festival Hymn - in a beautiful arrangement sung from people's homes with accompaniment on organ and trumpet.
The Festival got off to a great start with the Green Days opening ceremony, featuring (above) Jeremy Vine and Sophie Ellis Bextor on the virtual Bandstand, and our 29 Craft Fair exhibitors (still open). We had great entries and winners in our Football Skills and Fancy Dress competitions - and some wonderful paintings and photographs in the Bedford Park Summer Exhibition and Photographic Competition and Exhibition, and beautiful Virtual Open Gardens (all still open).
But that was just the start. We then had Dusted with Sugar, starring Phyllis Logan and Fr Kevin Morris; the Poetry Evening with Louise de Bernieres; The Trio Mancouche; Virtually Milly Forrest & Friends; Jeremy Vine, Phyllis Logan and Kevin McNally in Creature Features; Eddie Marsan in Death of an Inquisitor; Mark Fox on Frank Matcham & the Chiswick Empire; and many more great events. Catch up with them all via the link above.

See our interactive 'Green Days' map, with links to the Craft Fair, Bedford Park Summer Exhibition of Art, Photographic Exhibition and St Michael & All Angels Church . These remain open.
Stars to perform at home for Bedford Park Festival Online - ChiswickW4.com
See why our local celebrities love the Festival in these Chiswick Calendar videos and relive The Spirit of Green Days in photos.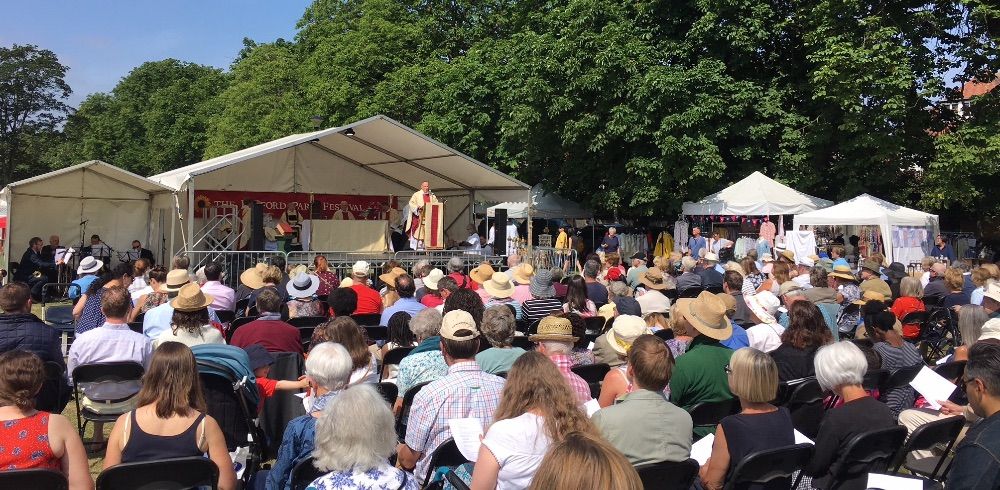 A capacity crowd for the Mass on the Green: St Michael & All Angels Church has organised the Bedford Park Festival for 54 years and Green Days weekend is its church fete. This year it is celebrating 140 years serving the community in Chiswick.