Chiswick's favourite fortnight - for over 50 years!
Download and read the 2023 Bedford Park Festival leaflet here
Don't miss the 57th annual Bedford Park Festival and Green Days Fete & Craft Fair!
From Friday June 9th to Sunday 25th 2023, we'll bring you art, crafts, music, photography, food, drink, talks, gardens and children's events - in aid of the work of St Michael & All Angels Church and its three chosen charities.
We'd love your help and donations! Cakes, plants, toys, bric-a-brac, prizes for the tombola.. See 'Please help and take part'.
We kick off with our Celebrity Organ Recital and preview evening for the Bedford Park Summer Exhibition and Bedford Park Photography Competition, followed by the Green Days Fete & Craft Fair on June 10th and 11th 2023. 'Nicki Chapman to open Bedford Park Festival' - The Chiswick Calendar
We continue with a fortnight of arts and community events. See details in the 'What's On' pages and the Festival leaflet below and Book Tickets here via TicketSource.
We'll be celebrating the 40th anniversary of the Bedford Park Open Gardens (1983-2023), the 50th anniversary of Artists at Home (1973-2023) and the Centenary of WB Yeats' Nobel Prize for Literature (1923-2023). We will conclude with the Festival Mass and Open Gardens on Sunday June 25th. Watch here and on social media for more updates.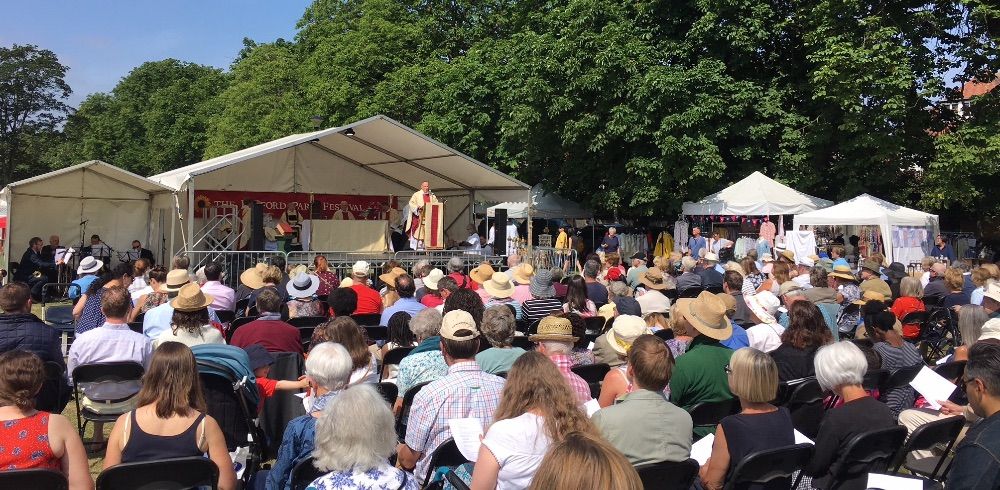 A capacity crowd for the Mass on the Green: St Michael & All Angels Church has organised the Festival for 56 years: Green Days weekend is its church fete.
Videos: The Festival is a celebration of arts, culture and the community: See 25 videos from The Chiswick Calendar archive.