Virtual Family Cycle Zone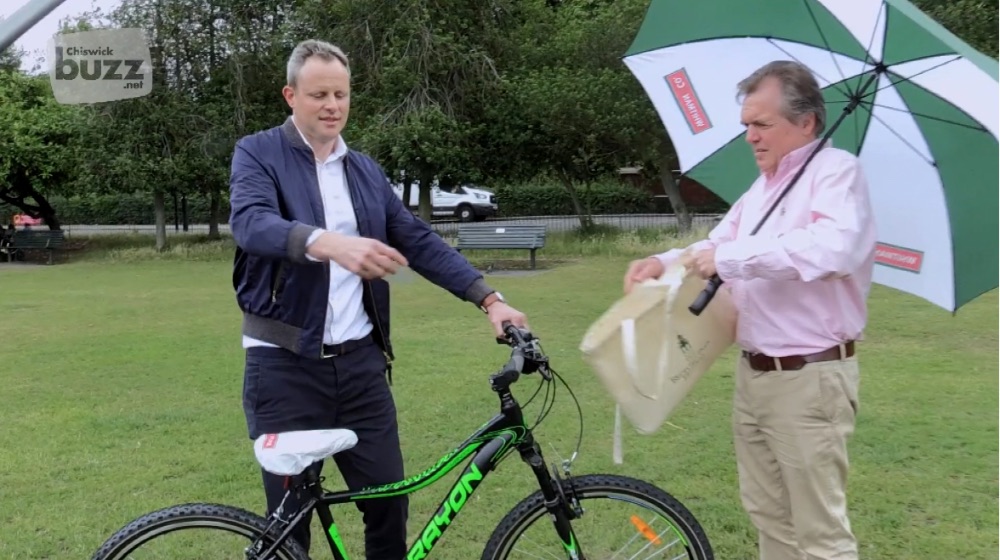 Chris Chalmers and James Matthews from Whitman & Co make the Win A Bicycle Draw
Since we can't gather on the Green this year, the Family Cycle Zone is taking place online! We held the Cycle Zone Draw as usual and are delighted that Whitman & Co are again donating a bicycle from Fudges as the prize.
To enter the draw, people were asked to spot six bicycles in our 50 Years of Green Days photographs. Ten people sent entries and the draw was conducted by Chris Chalmers and James Matthews of Whitman & Co, who sponsored the event. The winner can select their own design of bike up to the value of £350 from Fudges Bicycle Shop on Chiswick High Road.
Click here to watch the Draw and find out who won.
And the winner is (if you haven't yet found out from the video).... Sue Stanford!

But she's not keeping the bicycle for herself. This is what she told us:
"My sister Joanne lives in Chiswick and when I entered the competition I told her that if I won the bike it would be hers. Joanne has just started cycling and is a committee member of the Bedford Park Bicycle Club (she's the newbie, amateur cyclist 😂). When I visit (which is very often, as Chiswick is my second home) I'll use her old bike."

And, yes, this is Joanne Wade who you can see in the Bedford Park Bicycle Club video below! This is what she says:"I am delighted about my new bike - thank you, Susan! I will no longer be able to to blame my inadequate cycling on my bike once I have this stunning new one!"
Thanks again to James and Chris from Whitman & Co for once again sponsoring the competition - and Chris and Amy from Chiswickbuzz for filming the Bicycle Draw. Let's hope that next year we'll be able to hold the Family Cycle Zone back on the Green again.
The Bedford Park Bicycle Club marked Green Days weekend by producing this lovely video 'Cycling for new cyclists', instead of the Family Cycle Ride which usually takes place. Thanks to Ros McHugh, Joanne Wade and Peter Murray for taking part.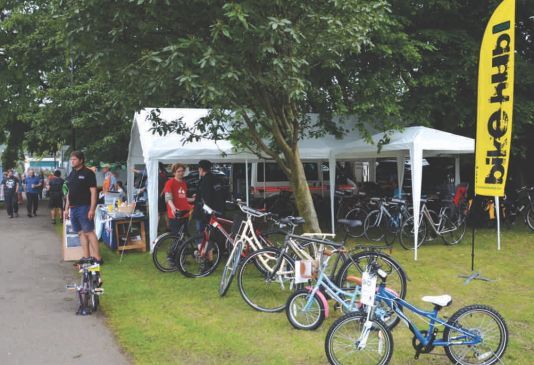 In 2019, the very popular Family Cycle Zone returned to Green Days, sponsored by Whitman & Co and supported by local cycling organisations. Whitman & Co again raffled a bike from Fudges. The previous year, the lucky ticket belonged to Allegra and the recipient was her father Manish who had recently had his bike stolen so was incredibly grateful! Smiles all round (above).
The Cycle Zone encourages local people to gain the confidence to safely use bicycles, and our local councils support this endeavour (see below).
Volunteers from Hounslow Cycling Group (the local branch of the London Cycling Campaign) shared advice on a wide range of issues including routes, accessing road safety training and how to join confidence building organised rides. Free maps and literature were available. And there was a guided cycle ride on Saturday June 8th, starting at 6.30pm opposite Turnham Green tube station.
We are grateful to Hounslow and Ealing Councils for their support - both of whom have useful pages on their websites covering safety classes, local routes and more.
Cycling safely during the COVID-19 Crisis - Ealing News Extra
More space for walking and cycling - Ealing News Extra
Southfield Safer Neighbourhood Team were marking bikes at the Cycle Zone on Saturday June 9th 2018. On Sunday this service was provided by Dr Bike, funded by Hounslow Council.
Sponsored by
Whitman & Co


5-7 Turnham Green Terrace
London W4 1RG
020 8747 8800
In association with