Family Cycle Zone
Smiles all round! Chris from Whitman & Co greets Manish, the winner of the 2018 cycle raffle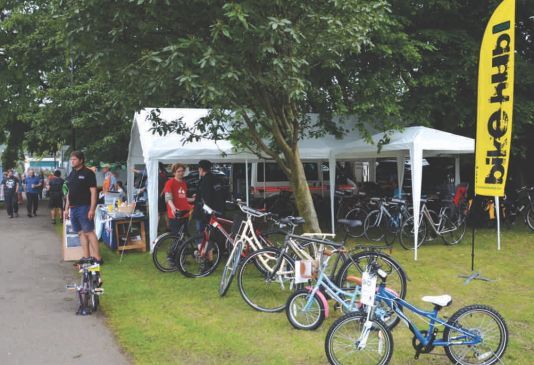 The popular Family Cycle Zone returns to Green Days on Saturday 8 and Sunday 9 June 2019, sponsored by Whitman & Co and supported by local cycling organisations. Whitman & Co will again raffle a bike from Fudges. Last year, the lucky ticket belonged to Allegra and the recipient was her father Manish who had recently had his bike stolen so was incredibly grateful! Smiles all round (above).
The Cycle Zone encourages local people to gain the confidence to safely use bicycles, and our local councils support this endeavour (see below).
Volunteers from Hounslow Cycling Group (the local branch of the London Cycling Campaign) will share advice on a wide range of issues including routes, accessing road safety training and how to join confidence building organised rides. Free maps and literature will be available. And there will be a guided cycle ride on Saturday June 8th, starting at 6.30pm opposite Turnham Green tube station.
As usual, a Dr Bike maintenance team is expected on site to check your bike and carry out minor repairs on site - bring your bikes along to take advantage of this free service and our local police Cycle Task Force will be available for free bicycle security marking.
We are grateful to Hounslow and Ealing Councils for their support - both of whom have useful pages on their websites covering safety classes, local routes and more.
Saddle up for a Spring and Summer of Cycling
Southfield Safer Neighbourhood Team were marking bikes at the Cycle Zone on Saturday June 9th 2018. On Sunday this service was provided by Dr Bike, funded by Hounslow Council.
Family Cycle Ride
Saturday 9 June 2018, 6.30pm
Meet at Turnham Green tube station
The Hounslow Cycling Campaign Family ride on Saturday 9th June departed from Turnham Green Station at 6:30pm at a leisurely pace and lasted a couple of hours including a pub stop along the way . Distance covered was between 7 and 10 miles.
Sponsored by
Whitman & Co


5-7 Turnham Green Terrace
London W4 1RG
020 8747 8800
In association with