Craft Fair: 2023 Exhibitors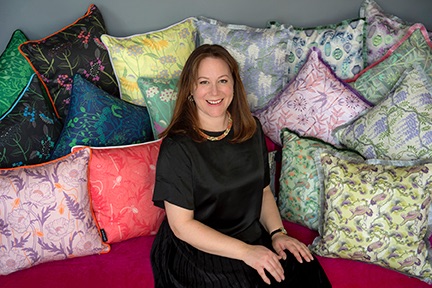 Joanna Sanderson - Zena & Rose
Watch here for details of this year's lineup!
Every year we are thrilled to host 20 different craft exhibitors as part of the Green Days weekend. The stalls will offer a wide selection of high-quality craftworks to buy or commission.
Artisanne - Award-winning Fair Trade Homeare from Senegal.
Artisanne is the brainchild of two sisters who grew up in Bedford Park – London-based Elizabeth (who still lives in Bedford Park), and Emma who lived in Senegal for six years. We work directly with over 120 weavers in that beautiful country where traditional skills are passed down from mother to daughter. By avoiding any middlemen, we give our artisans access to new international markets, helping to ensure they earn a regular and fair income. Our close contact allows us to create our own designs and guarantees the exceptional quality for which Artisanne is renowned.
We launched Artisanne at Green Days 8 years ago and are delighted to be back with some special offers! www.artisanne.co.uk
IG: artisanne_home
Pinterest: artisanne_home
FB: @ArtisanneHandmadeBaskets
Charlotte Berridge Studio
Charlotte has designed a range of local illustrated prints, cards and tea towels inspired by West London's historic architecture. Her work features Chiswick's favourite landmarks, parks and historic pubs. Perfect gifts for anyone who knows, loves or lives in the area. www.charlotteberridge.co
Instagram: charlotte.berridge_studio
Facebook: Charlotte Berridge Studio
Twitter: @CBerridgeStudio
Fairly Amy
Beautiful, colourful felt baby mobiles, personalised felt name banners, felt animal and superhero fancy dress masks, organic cotton and wooden baby dribble bibs and teething rings, fabric sun hats and bunting, all designed and handmade by Amy in Acton. www.fairlyamy.co.uk
Lorna Kyle Handmade Cards & Crafts
I make handmade cards and create mounted artwork from vintage card games and trading cards. I also frame nostalgic comics and sheet music as eclectic pictures for your walls; and then, for music lovers, because music is such an emotional element in all of our lives, I frame original 7" vinyl records as art pieces or as music memorabilia - whichever you prefer. www.lornakyle.com. Specialist framed 7" vinyl shop
Jeremy Cuss
Caning and Rushing of chairs as well as French Polishing.
Jeremy Cuss: 0208 994 4030
Zena & Rose
Zena & Rose is a brand designing colourful patterned homeware and gifts, featuring original bird and botanical illustrations. These are inspired by heritage influences but also appeal to contemporary taste. Our aim is to bring you joyful moments everyday through beautiful and useful things. We make all our products in the UK and our values are based on responsible sourcing of materials and labour practices. As well as having its own website, Zena & Rose works with carefully selected retail partners. www.zenaandrose.com
Clare Johnston
Clare Johnston designs and makes exclusive one-off Kimonos and Shirts using natural fabrics from her archive collected during her international career as a Textile Designer and Lecturer. After 30 years as a Textile designer working with companies such as M&S and Liberty, in 2000 she was appointed Professor and Head of Textiles at the Royal College of Art, a post she enjoyed until 2015. Since then she started making Kimonos and continues to work part time in academia. Each Kimono is unique and made to be kept and treasured. www.clarejohnston.com
Celia Martine Pickering - Art teacher, Artist and Print Designer
An artist and local art teacher (Art with Little Pics). Celia paintings are mainly on cotton rag paper, using Matt emulsion. Her love for colours and bold shapes is clear in her artwork. Celia's artwork is recognisable and familiar to Chiswick residents, as her sell-out design was used for the Chiswick Flower market. She now has new Chiswick designs, including a new Limited Print and Tea Towel for Green Days, to celebrate 50 years along with other Botanical London designs. All prints and tea towels have been digitally altered for her paintings , allowing her works to keep their value and originality. All original works are available to buy from her home studio in Grove Park during the Artists at Home event, Studio 6 and The Old Cinema, Chiswick High Road. www.celiamartinepickering.com
MiniPrint Vintage
Unique and original artwork, maps, cufflinks, coasters and gifts created with real vintage postage stamps from the UK and around the world! We also upcycle genuine vintage comics and old books to make a range of fun and unusual gifts. All items are handmade locally in London. High quality, affordable and handcrafted. http://www.miniprintvintage.com/
Felicity Gail (Jackie and Debbie)
We are two jewellers who work together under the name Felicity Gail. We make one-off and small edition pieces using found, reclaimed and recycled materials including plastics, piano wire and sea glass. We create contemporary jewellery with unusual, colourful and bold designs. Our work has been sold at Tate, Royal Academy and The Hepworth galleries. For Green Days we have designed jewellery inspired limited print silk scarves. http://felicitygail.com/
Linda Marr Ceramics
Colourful porcelain slip cast pieces taking inspiration from Richmond Park. Decorative and functional. Instagram: lindakristinemarr.
Conkers Hand Knits
Katy Walker has designed this collection of beautiful and original hand knitted baby and children's clothes for the little ones in your life. www.conkers-handknits.co.uk Instagram: conkershandknits
Qona Rankin
Qona Rankin is a Chiswick based jeweller who designs and makes one off pieces of jewellery from recycled Sterling silver and 9ct gold, sometimes adding semi precious stone, slate, ceramics and wood. Having completed a BA in 3D design at Kingston University she then worked for John Donald in Cheapside for two years. Qona then set up her Jewellery workshop in Barley Mow Chiswick. In 1983 she graduated from the Royal Collage of Art, and continued to design and make jewellery, which she sold through various retailers. Qona now has a workshop in her home, where she continues to produce various ranges of jewellery as well as working to commission. www.qonadesigns.co.uk Instagram: qonadesigns