Green Days Fete and Craft Fair
Join us each year for two days of fun at our traditional village Green Days Fête and Craft Fair. The 2018 Festival was opened by the award-winning actor Eddie Marsan, who was home in Chiswick between numerous filming commitments in the United States.
He can be seen in the US television series Ray Donovan, on Sky Atlantic, and the films Deadpool 2 and Entebbe, in which he plays the Israeli defence minister (and later PM and president) Shimon Peres. Eddie Marsan is also a familiar face from earlier appearances in the Mike Leigh films Vera Drake and Happy-Go-Lucky; War Horse; and the BBC productions Little Dorrit and Jonathon Strange and Mr Norrell.
Read his interview last month in the Daily Telegraph.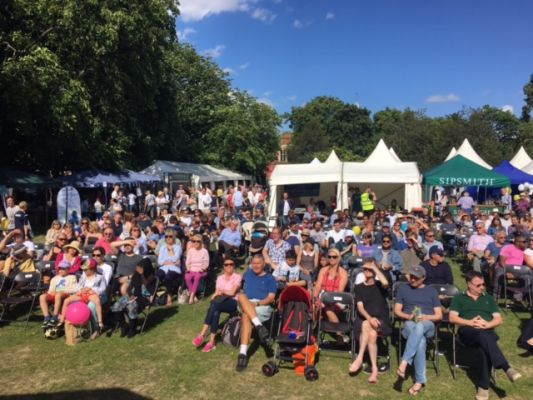 Thousands of people joined us for two days of fun at our traditional Green Days Church Fête and Craft Fair. Watch here and social media for updates!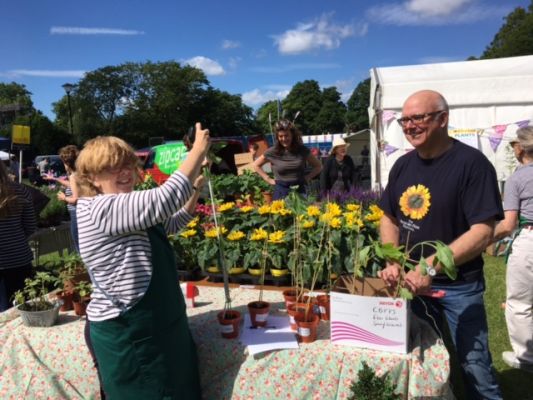 There was the usual fantastic mix of stalls and entertainment - 5-a-side football, Children's Corner, Fancy Dress Parade, the Fuller's Beer Tent, Refreshments, Bands and choirs, Bric-A-Brac, Win-A-Meal, Books, Plants, Cakes, Cycle Zone and much more. Plus Mass on the Green at 10.30 on Sunday.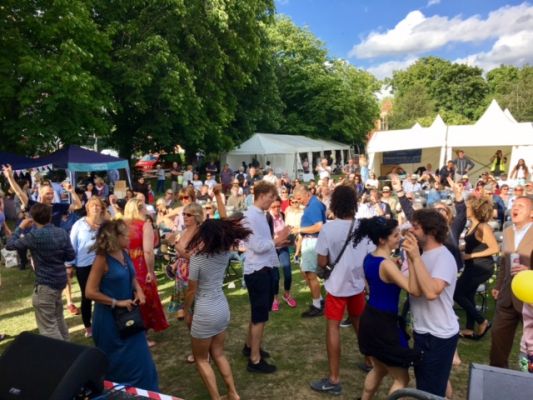 The Bandstand
At the heart of Green Days is the Bandstand, which is the focus for live music and many events. There is a variety of talented acts who perform throughout the weekend. The full 2018 line-up is here.
Craft Fair
We are thrilled to host 20 different exhibitors offering a wide selection of high-quality craftworks to buy or commission. You can see the Craft Fair Stalls here.
Food and Drink
You certainly won't go hungry or thirsty on Green Days! In 2018, there was a beer tent serving Fuller's beer, Pimm's, cider and soft drinks; a Sipsmith stall; a Wine Rack prosecco stall; a refreshment tent serving lunches, snacks, Fairtrade tea and coffee, delicious cakes, strawberries and cream teas; a barbecue with burgers and hot dogs; bacon butties, pancakes, salads, sweets and an ice cream van.
Stalls and Funfair
Activities include fairground rides, skittles, a coconut shy, beat-the-goalie and a children's corner. Other stalls sell plants, toys, books, bric-a-brac and more, plus the Sunday Stalls. At the St Michael and All Angels stand, you will find information about the church, the Festival and the charities, as well as Festival merchandise for sale.
Children
As well as all other activities, children can visit the children's corner, take part in, or watch, the junior 5-a-Side Football tournaments and the Fancy Dress Parade. The full list of children's events throughout the 2018 Festival is here.
Competitions
Tickets will be on sale for the Win-a-Meal competition, the High Roller Tombola and the Champagne Lottery. The Photographic Exhibition and Competition will be on display in St Michael & All Angels Parish Hall throughout the Green Days weekend. The competitions throughout the 2018 Festival are listed here.
Family Cycle Zone and Electric Vehicle Zone
The Family Cycle Zone has so far had five hugely successful years at Green Days. And this year, as we look to The Next 50 Years as part of our Golden Jubilee celebrations, we are introducing an Electric Vehicle Zone.
Make Every Day a Green Day
We aim to clear up and recycle waste on the Green and help the environment.
Thanks to our Green Days partners
Thank you to all our 2018 Green Days partners, who are listed below. See Partners page. Their contributions underwrite the costs of Green Days, such as the marquees and hire of the Green. They also benefit our charities - WaterHarvest, The Upper Room and The Amber Trust - and St Michael & All Angels Church which receive the income from the Festival after costs.
Diamond Partners
Andrew Nunn & Associates: Refreshments Tent
Bown Design & Build: Book Stall
Chestertons: BBQ (+ Opera Gala)
Fletchers: Craft Fair
Fuller's: Beer Tent
John D Wood: Beer tent
Knight Frank: Champagne Lottery
MoveTo: Promotion
Sipsmith: Spirits Stall
Thorgills: Plant stall (+ Bedford Park Walk and Open Gardens)