Please help and take part
The volunteer catering team at the Juritz Concert and Supper, sponsored by HPW solicitors
The Bedford Park Festival is a two-week community and arts event and we rely on the time and support generously given by local people and businesses to help make it happen. This year's Festival will run from Friday June 7th to Sunday June 23rd. Volunteers are welcome to help for a couple of hours or for the full two weeks! We also need lots of artistic and creative input. Below is a list of ways you can be involved in 2019.
Please contact Nicola Chater for more information or St Michael & All Angels Parish Office. Please contact Torin Douglas to sign up to the St Michael's email newsletter or discuss sponsorship and other commercial opportunities. Thank you to those of you who have already offered your help.
How to help in the Festival fortnight
Photographic exhibition: We are still seeking a few people to man the exhibition on Saturday June 8th and Sunday June 9th (again with a team of volunteers)
Hospitality and Front of House: There are still a few opportunities to help with hospitality and front of house at any time over the two weeks - please contact Kay Porter porterkay@btinternet.com.
Publicity & Marketing: Preparing promotional posters for Festival events, and putting them up on a daily basis during the Festival.
Sponsorship: We are seeking helpers to work with Torin Douglas, liaising with local businesses to put up banners and make the most of their promotional activities in other ways.
If you are interested in either of these roles, please contact Nicola Chater: nicola@global-marketing-solutions.com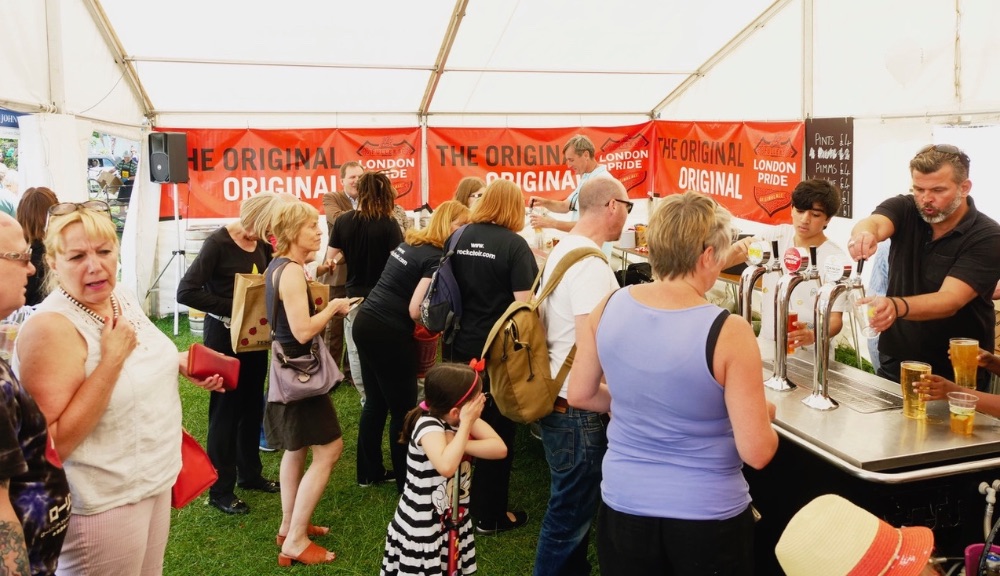 The busy team in the Beer Tent sponsored by Fullers and John D Wood
Green Days: Are you able to donate any of the following?
Plants: It is never too soon to start growing plants for the Plant Stall. Please bring them to the stall on Saturday morning June 8th. Contact Marjolein van Kampen m@rjolein.com
Cakes: any kind of home-baking (including gluten-free) plus marmalade/ jam/ preserves. Contact Bernadette Halford b.halford@sky.com
Hats, designer dresses, belts, ties, scarves, gloves and bags. Any good quality items. Collecting Sundays after Mass (approx 11.15 a.m.) at the back of St Michael's Church contact Pamela Bickley pamelabickley@btinternet.com
Tombola items: worth £10 or more. Items should be new or unused and non-perishable. eg. bottles of wine (still or sparkling) or non-alcoholic drinks; jars of preserves or similar; new/unused accessories such as scarves/ jewellery; food items such as biscuits or chocolates; new/unused toys; new/unused decorative items such as a picture frame or vases; upmarket toiletries; or gift vouchers for shops. Needed by May 31st. Contact Martyn Schofield martynschofield25@gmail.com
CDs & DVDs: For the Vicar's Stall. Bring to the Parish Office during opening hours. NO VIDEOTAPES PLEASE.
Bric-a-Brac: Bring to the Parish Office during opening hours - Contact Mel Howells meredydd.howells@hotmail.com
Books: Contact Helen Wareham helenratcliffe@bdb-law.co.uk
Large sponge cakes: Victoria, Lemon, Coffee etc for the Refreshments Tent (including gluten-free). Contact Jenny de Montfort jdemontfort@btinternet.com
We also need people who can volunteer a few hours of their time over the weekend to help on the various church stalls. Please contact Jane McCabe: janemccabe@hotmail.co.uk
Sponsorship and donations
If you run a business and would like to know how your firm can be involved as a sponsor or by donating goods or services, click here: Commercial opportunities.
If you are a member of the community and have contacts, or would like to help us liaise with businesses, please contact Torin Douglas at torindouglas@aol.com.