Charitable giving
The Bedford Park Festival has raised money for the work of St Michael and All Angels and its chosen charities for many years, with the active support of the community and dozens of local businesses.
The Festival is still true to the spirit in which it was established more than 50 years ago: celebrating the arts, raising money for repairs and cherishing our community. This year's chosen charities are: The Upper Room, Swinfen Telemedicine and Crosslight Chiswick. Read more about them below.
Please be generous in your support.
St Michael & All Angels Church, Bedford Park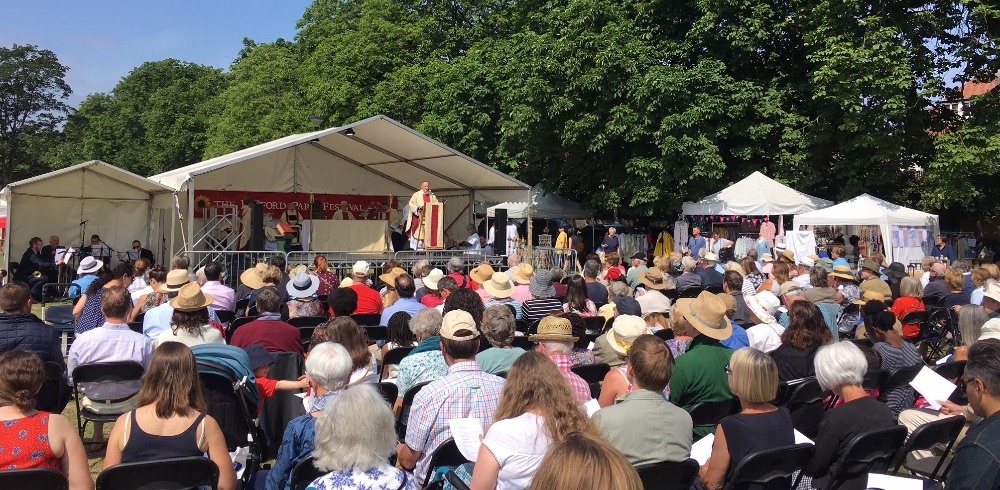 St Michael & All Angels: Mass on the Green, 2018 (Click to zoom in)
Registered Charity No. 1133805
www.smaaa.org.uk/wp/
St Michael & All Angels Church, Bedford Park, which has organised the Bedford Park Festival since it began in 1967, is itself a charity. It is a beautiful and welcoming church at the heart of the community in Chiswick, close to Turnham Green station. It was built by the architect Norman Shaw 140 years ago as a focal point of the Bedford Park estate, for the worship of Almighty God and to serve the needs of the community.
Our mission is to share the experience of the love of God in Jesus Christ with all people through worship, education and service. The annual Bedford Park Festival is a central part of St Michael's work in the community, together with the Chiswick Book Festival in September.
Our services are open to the public every day. You can join our 10am service every Sunday here on our Facebook page - you do not have to have or join Facebook to watch them!
Registered Charity No 1099117
St Michael & All Angels Bedford Park Trust
The Church also has a second charity, the St Michael & All Angels Bedford Park Trust, which gives grants to further its religious and pastoral work and supports the maintenance of its buildings. This also benefits from the Bedford Park Festival and is currently helping to pay for the work of our Curate, Fr Brandon Fletcher-James.
The Upper Room
Registered Charity No. 1004354
www.theupperroom.org.uk
The Upper Room is a local charity based in W12 and working with the homeless, with economic migrants and with ex-offenders. It aims to give them the self confidence and support they need to become economically independent.
At the heart of the Upper Room - in normal circumstances - is its meal service which provides nutritious evening meals five days a week. Free toiletries, bedding and clothing are offered when available and help is on hand for onward referrals for health, housing and benefits advice.
In addition, the Upper Room has two other projects. UR4Driving offers ex-offenders the chance to obtain a driving licence, making it easier to get work in the distribution industry, and reducing the risk of re-offending. UR4Jobs gives the homeless and unemployed, especially those from Central and Eastern Europe, the chance to join a multilingual and personalised programme of support, to help them with entry level skills training and access to work.
Crosslight Chiswick
Registered Charity No.1163306
https://www.crosslightadvice.org/chiswick
Crosslight Chiswick is our newest charity – the Chiswick branch of Crosslight Advice which provides face-to-face debt advice, together with money education and budgeting support to individuals and families in need. It is based at St Nicholas Church W4, who provide office space and support, with a ready pool of willing volunteers as well as vital pastoral support and access to other community services.
Swinfen Telemedicine
Registered Charity No. 1077879
www.swinfentelemed.org
Swinfen Telemedicine (Swinfen Charitable Trust) is a Platform for Communicating Health Care Worldwide and the new overseas charity at St Michael & All Angels. On a pro bono basis, it gives access to specialist medical expertise for doctors and nurses working in remote regions of the world. Read more on its website. Funding from St Michael & All Angels, over three years, will allow Swinfen to upgrade its App and maintain its technology platforms, facilitating broader reach and more effective (and reliable) communications with medics on the front line.
Other Charities
We encourage charities, particularly those who are locally based, to take a stall on the Sunday of Green Days. This is a great opportunity to share information about their charity, raise some funds and perhaps recruit some volunteers. Many will be here on Sunday June 11th 2023 and we will be sharing their information on social media.