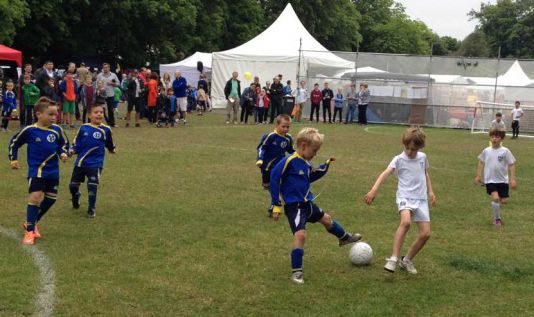 5-a-Side Football for Under 13s
Saturday 10 June 2023 to Sunday 11 June 2023
Green Days on Acton Green
Book early to avoid disappointment
£45 per team
Fancy a game of football right in the heart of the Green Days Fête, on Acton Green, opposite Turnham Green tube station?
Saturday 10 June 2023
Morning: Under 9s Cup School (Years 3 & 4)
Afternoon: Under 11s Cup School (Years 5 & 6)
Sunday 11 June 2023
Late Morning: Under 7s Cup School (Years 1 & 2)
Afternoon: Under 13s Cup School (Years 7 & 8)
Exact timings to be announced once all entries are in.
Please email: 5asidefootballgreendays@gmail.com to register.
Spaces are limited and allocated on a first come, first served basis. Please register early to avoid disappointment. There will be a £45 registration fee and all proceeds go to the Festival charities.
Once your team's entry has been accepted, bank details will be sent you to pay the registration fee - only then will your team's place be confirmed.
Hosted by BizzyBuddies and proudly sponsored by Savills – Major Sponsor of The Bedford Park Festival - and Falcons Pre-Preparatory Chiswick.
Bizzy Buddies
Bizzy Buddies was set up in January 2020 and is run by teachers Reiss McGrath and Noah Kibreab (from the Falcons Pre-Prep School Chiswick). It hosts one of the most popular holiday camps in Chiswick.

Bizzy Buddies is where boys and girls, of mixed ages and abilities, can enjoy everything, not just football. And in a relaxed environment, play, make or create whatever they want to on the day. We're proud to work closely with various schools in the Chiswick area and have become a real community hub for young families in Chiswick.
Away from our holiday camps, we have worked in various schools around London, providing after-school clubs, lunchtime sessions and entertainment/prizes at school fairs. We also provide children's birthday parties on weekends.
What Football Job Can You Do? by Emma Juhasz
A unique educational book for primary school children about careers in the football industry (right).
Copies will be given as prizes to some of the best players in the tournament. And you can buy your own copy today via www.emmajuhasz.com or email emjuhasz73@gmail.com