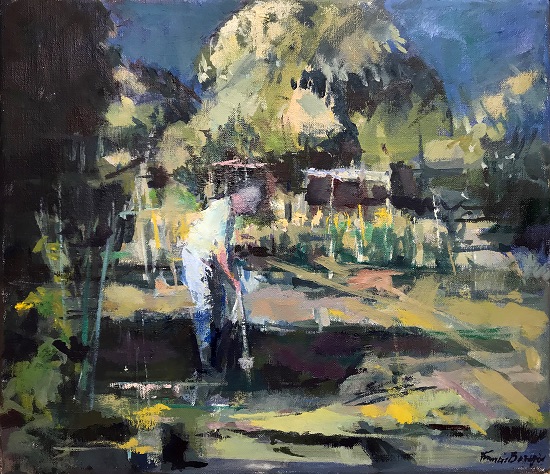 Bedford Park Summer Exhibition: Art in a Time of Pandemic
Saturday 12 June 2021 to Friday 18 June 2021
St Michael and All Angels Church
Open 1200-1800. Including The Chiswick House Friends LEGO® brick model of Chiswick House
Entry free, please donate to the Festival charities
The 2021 Bedford Park Festival Summer Exhibition will be held in St Michael & All Angels Church from Saturday 12 June to Friday 18 and here online on The Chiswick Calendar website for much longer. All the works are for sale. Please show your appreciation by donating to our Festival charities here.

All unsold works (sold and unsold) must be collected on Saturday 19th June between 2 and 4pm - see details here.
We are also delighted to display The Chiswick House Friends LEGO® brick model of Chiswick House - see below.
Chiswick has many talented artists, amateur and professional, and the prices of the work on sale reflect the artists' experience. Artists were invited to exhibit one work each. A third of the proceeds from all sales will be kindly donated by the artists to the church charities. Thanks to the Exhibition Committee, some of whom are pictures (right).
Please note: the popular Artists at Home open studios event - which usually takes place on the weekend following the Bedford Park Summer Exhibition - is postponed till September 17-19 2021.
The Chiswick House Friends are showing their 'build-as-you-donate' LEGO® brick model of Chiswick House with the Victorian Wings in place.
This 50,000 brick model is being built to raise funds for the House and Gardens, which have been badly affected by Covid event cancellations. For each donation of £2, one brick will be added, or £1.50 each for ten or more bricks, when your – or your family's name – will be added to the Roll of Honour on our website https://chfriends.org.uk/lego-build-progress.
To donate, visit https://www.justgiving.com/campaign/ChiswickHouseLegoModel, or to join the Friends https://chfriends.org.uk .