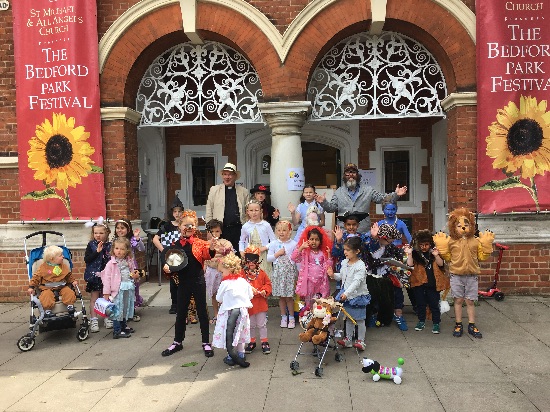 Children's Fun Day
Saturday 12 June 2021, 10:30 to 15:00
St Michael and All Angels Parish Hall
From our annual Fancy Dress Parade to the Bake Off Challenge, the Children's Fun Day will offer children of all ages an exciting range of activities.
We are holding children's activities on what would usually have been the opening Saturday of Green Days weekend

Provisional schedule. Watch for updates.
Please pick up a ticket for each event - and register details for you and your child - beforehand. The ticket desk will be open from 10am, in the porch of the Parish Hall.

Fancy Dress Competition – Free of charge, donations invited for our charities
Theme – The Animal Kingdom
10.15am Registration, St Michael & All Angels Parish Hall. 10 years and under.
- Book prizes donated by Trotters.
- Ice cream vouchers for all entrants donated by Fouberts.

Fun & Games Sports Activities - £5 per child entry fee
Sports activities with Falcons Pre-Preparatory School.
- Join in some fast and fun fitness games with Falcons coach Reiss McGrath
- Children should come dressed for activity – loose and comfortable clothing and trainers/sports shoes (no bare feet)
- Maximum 20 children per session

10.30am-11.15am (registration from 10am) - 9-12 yrs session
- Learn some new skills and test out your fitness with Falcons' sports coach.
11.30am-12.15pm (registration from 10am) - 6-8 yrs session
- Fun and games to help with agility and co-ordination with Falcons' sports coach.

Story Corner – Free of charge, donations invited for our charities. Please register at the ticket desk beforehand (open from 10am).
Theme - The Animal Kingdom
11.30am - Ernest the Elephant by Anthony Browne - for children 6 and under
Read by Christina Balmer
1pm - Gaspard's Foxtrot by Zeb Soanes and James Mayhew - for children 5 and over
Read by Andrew Maud
- We have a strict cap on the number of adults in the room. We ask, where possible, for parents not to accompany their children if they can sit and listen on their own.
- Supported by Chiswick & Bedford Park Preparatory School and Young Veterinary Partnership

Bake Off Challenge - Free of charge, donations welcome. Register for entry by 10th June.
Theme - The Animal Kingdom
12.30pm-2.30pm. Register for entry by 10th June. See: Entry form and full details here.
- The bake-off challenge is to produce 24 cookies or 12 fairy cakes, decorated in the theme of the day: The Animal Kingdom. Entrants must be 8-12 yrs.
- Judges include cookery writer and broadcaster Jo Pratt.
- All bakes will then be sold in our Bake Off Cake Sale with proceeds to the Festival charities.
- Supported by Orchard House School