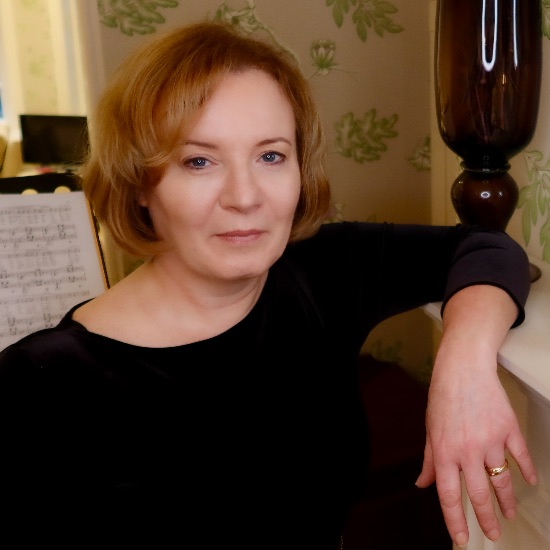 Luci de Nordwall Cornish: From Dusk to Dawn​ Recital
Saturday 26 June 2021, 19:00
St Michael and All Angels Church
£10
Luci writes: My programme this year includes German and French artsongs from Brahms, Schubert, Hahn and Faure, an exquisite pair of songs by Madeleine Dring and American Songbook favourites.
I'm delighted to say that this is the 3rd Bedford Park Festival I have been invited to take part in. Last year's "Pocket Concert" (ie something you might have downloaded to listen to on a walk) was recorded in our sitting room where we hosted a House Concert in 2018. Because of the regulations in force at the time my husband Roland acted as sound engineer using an app we discovered on one iPhone while we played a backing track on another, and I sang. With help from Matt Landeg we managed to produce a decent recording for the first online Bedford Park Festival (2020).
In the brief lull between lockdowns when we thought life was returning to normal, I and a friend, Amos Paran, baritone, with Gus Tredwell on piano, recorded a recital in aid of Combat Stress – again with Matt's help. This was supposed to have taken place live at the 1901 Club. Instead we recorded it there and released it on my YouTube channel
Since September I have been following an opera course run by Morley College online. I was sceptical how much practical experience this would yield but due to the extraordinary abilities of the directors, Paneteros Kyriatzides (in London) and Jorge Balca (in Lisbon) to listen beyond what they are hearing over Teams/Zoom and see every flicker of expression it has been and continues to be simultaneously hugely rewarding and challenging.
We all just got on with what we could, how we could. Now we are returning to rehearsing and performing as human beings rather than recorded images/sounds, we're all realizing how long weve been starved of that connection -where you suddenly feel that electric current running live from the words through the composer through the performer to the audience, all are suddenly contemporaneously fused together in the moment. And its hits us how precious that is, and how we have been yearning for it. It has been like being exiled from one's soul.
My programme this year includes German and French artsongs from Brahms, Schubert, Hahn and Faure, an exquisite pair of songs by Madeleine Dring and American Songbook favourites.
I'm especially pleased to be including 2 female composers in my programme – Clara Schumann wrote 'Liebst du um Schonheit' , Op37 No 4, a teasing setting of a Ruckert poem in 1840 around the time she and Robert finally managed to marry, overcoming her father's protests by obtaining a court order. They went on to have a wonderful partnership both romantically and musically, each respecting the other's talents and strengths.
'The Nightclub Proprietress' and 'Business Girls' are part of a suite of 5 John Betjeman songs by Madeleine Dring, another Londoner. (1923 – 1977). John Betjeman is of course a bit of a local hero for apparently suggesting that Bedford Park buildings be listed to save them from demolition. He is known for the mocking tone of his poetry (or is he merely being nostalgic?) but to begin with I found the lyrics of 'Business Girls' hard to take as they appeared patronizing and misogynistic.
There are other critics who have written of his 'lasciviousness…. in imagining 1000 wet female bodies lying in their baths'.
However it was a woman who chose this poem as one of only 5 in a suite of songs. And one with wit, intelligence and a sense of humour. However sanctimonious the words, they are carefully and completely disarmed by MD's light, fresh touch with sophisticated undercurrents of other musical genres in the musical setting.
Weighing up whether to perform this or not I have gone for fond memories of my own first flat in North London, revelling in my daily commute (the Jubilee line not 'trolleybus') wearing suits and heels to my City job. (yes my flat DID have a skylight in the bathroom but it was not draughty!)
Madeleine Dring's business girls were my forerunners and thanks to themI was able to reap the benefits and pass them on to future generations like my daughter and her friends. Mr Betjeman and his ilk, be damned!