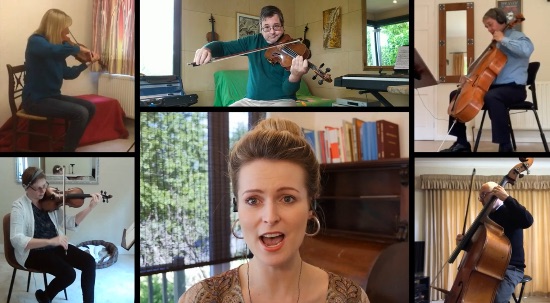 Streaming now! Festival catch-up
Monday 8 June 2020 to Sunday 30 August 2020
Catch up with Green Days performances and other Festival events via video, audio and photos.
Chiswick 'has risen to the creative challenge of COVID-19 - The Chiswick Herald

Please click on the links below. Thanks to the teams at Chiswickbuzz and The Chiswick Calendar, who have made this virtual Festival possible - and to our Festival partners.
Green Days At Home & Bandstand
June 13th & 14th: Festival opening by Jeremy Vine and other Bandstand highlights (c 3 mins)
June 13th & 14th: Craft Fair - 29 exhibitors with works for sale (timeless)
June 13th & 14th: Meet the Crafters interview (c 25 mins)
June 13th & 14th: Chiswick Auctions Virtual Valuations (c 30 mins)
June 13th & 14th: Ballet4Life Showcase (c 45 mins)
June 13th & 14th: Chiswick House's new director, Xanthe Arvanitakis (c 14 minutes)
June 13th & 14th: Sophie Ellis Bextor Kitchen Disco No 3 (c 25 mins)
June 14th: St Michael & All Angels Green Days Mass (c 45 mins)
June 14th: Hymnathon 2017: The Film (c 3.30 mins)
June 14th: Bedford Park Bicycle Club film: Chiswick to Kensington (c 8 mins)
June 14th (onwards): Bedford Park Virtual Open Gardens (timeless)
The rest of the Festival fortnight
June 12th-28th: The Bedford Park Summer Exhibition (timeless)
June 12th-28th: The Photographic Competition & Exhibition (timeless)
June 16th: Dusted with Sugar - a radio play with Phyllis Logan, Kevin Morris (c 12 mins)
June 17th: Poetry Evening with Louis de Bernieres - £5 behind paywall (c 60 mins)
June 18th: Singing the praises of Bach: a conversation with music - Sandy Burnett, David Juritz & Milly Forrest - £5 behind paywall (c 60 mins)
June 19th: Trio Manouche: The Isolation Sessions (c 37 mins)
June 20th: Virtually Milly Forrest & Friends (c 20 mins)
June 21st: St Michael & All Angels Choristers Concert (c 25 mins)
June 21st: Death of an Inquisitor - a radio play with Eddie Marsan (c 25 mins)
June 22nd: Frank Matcham and the Chiswick Empire - a talk by Mark Fox (c 25 mins)
June 23rd: Creature Features - a radio play with Phyllis Logan, Kevin McNally, Lucy Briers, John Rowe, Jeremy Vine and others
June 26th: Virtually Mark Viner (c 1hr 30mins)
June 27th: Pocket Recital: Luci de Nordwal Cornish
June 28th: Singing The Festival Hymn
Competition results
June 14th: Football Skills Competition
June 14th: Fancy Dress Competition
June 14th: St Michael's & WaterHarvest Quiz
June 19th: Win A Bicycle Draw (c 2.10 mins)
June 26th: Children's Community Art Gallery
June 28th: The Big St Peter's Quiz (including answers)
June 28th: Silent Auction of Gifts & Promises
June 30th: Photography Competition
June 30th: Summer Exhibition: People's Favourite
July 1st: The Spirit of Green Days Competition