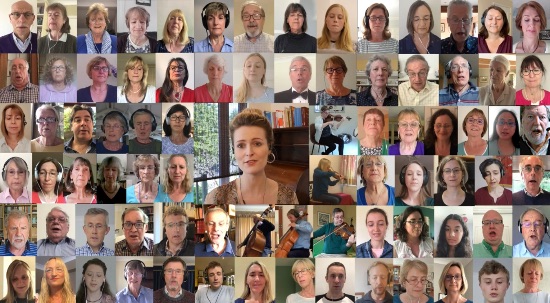 Virtually Milly Forrest & Friends
Wednesday 24 June 2020, 19:00
Create your own virtual concert with Milly Forrest and Friends
Please make a donation via DonorBox
The wonderful soprano Milly Forrest, who has been singing in St Michael & All Angels Church since the age of eight (and was married there last September), has not been idle under Lockdown. First she enrolled as a hospital porter at Watford General Hospital. She wrote about the experience on Norman Lebrecht's Slipped Disc blog site. Read more on ChiswickW4.com.
Since May, Milly has been making recordings with a variety of musicians and singers. Create your own YouTube concert with Milly Forrest & Friends by clicking the links below.
‪Milly sings Mendelsohn, with Guildford Choral and Jonathan Wilcocks
Milly sings Gounod: Je Veux Vivre, with Chad Vindin
Milly sings from Handel's Semele, with Nathaniel Mander
Milly sings Songs my mother taught me, with Ian Tindale
And please show your appreciation by making a donation to St Michael & All Angels and its charities, on our DonorBox page.
You can click the YouTube 'subscribe' button and see more of Milly's videos, including interviews with The Chiswick Calendar and Chiswickbuzz.net.