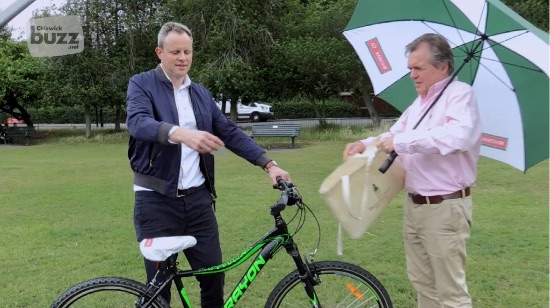 'Win a Bicycle' Draw
Sunday 28 June 2020 to
Watch the draw - and find out the winner - in the Chiswickbuzz video below!
And the winner is (if you haven't yet found out from the video).... Sue Stanford!

But she's not keeping the bicycle for herself. This is what she told us:
"My sister Joanne lives in Chiswick and when I entered the competition I told her that if I won the bike it would be hers. Joanne has just started cycling and is a committee member of the Bedford Park Bicycle Club (she's the newbie, amateur cyclist 😂). When I visit (which is very often, as Chiswick is my second home) I'll use her old bike."

And, yes, this is Joanne Wade who you can see in the Bedford Park Bicycle Club video on our Cycle Zone page. This is what she says: "I am delighted about my new bike - thank you, Susan! I will no longer be able to to blame my inadequate cycling on my bike once I have this stunning new one!"

Thanks again to James and Chris from Whitman & Co for once again sponsoring the competition - and Chris and Amy from Chiswickbuzz for filming the Bicycle Draw. Let's hope that next year we'll be able to hold the Family Cycle Zone back on the Green again.
Since we couldn't gather on the Green, we created a Virtual Family Cycle Zone online - and again we held a Win A Bicycle Draw. The draw was conducted by Chris Chalmers and James Matthews who are both Directors of Whitman & Co who sponsored the event. The winner can select their own design of bike up to the value of £350 from Fudges Bicycle Shop on Chiswick High Road.
To enter the draw, people were asked to spot six of the photos which contain bicycles in our 50 Years of Green Days photographs (some spotted quite a few more than that!) Ten people found six or more: they were all entered into the draw and are being notified of the result.
Chris and James conducted the Draw on Friday June 19th 2020 on Acton Green. It was filmed by Chiswickbuzz and introduced by the Festival co-ordinator, Torin Douglas.

Watch the Draw and find out who won here in the Chiswickbuzz video.