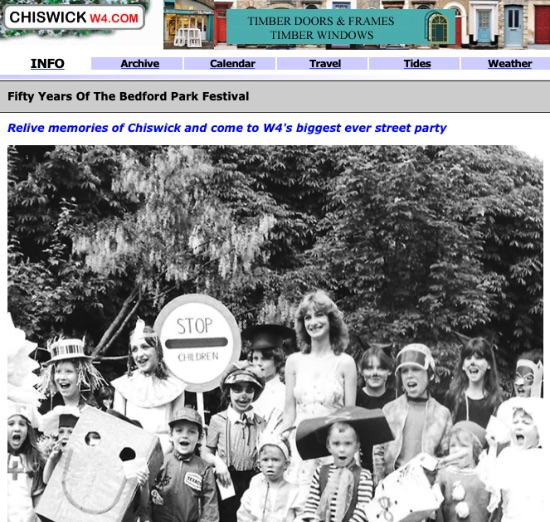 The Spirit of Green Days competition
Thursday 25 June 2020 to Sunday 28 June 2020
Celebrating our 50 Years of Green Days photo albums - and a new one!
The Festival organisers invited people to recapture the 'Spirit of Green Days' through hundreds of photographs, decade by decade, in our '50 Years of Green Days' Flickr album. It was created for the 50th Bedford Park Festival in 2016 - and ChiswickW4.com invited people to send in their photos. Entrants were asked to choose a photograph that summed up what they loved about Green Days. The Green Days photos were also used for the 'Win A Bicycle Draw': entrants had to spot at least six photos with bicycles in.
The prize is a copy of SIP - the Sipsmith cocktails book. The judges' decision is final.

Torin Douglas, one of the organisers, said "Nothing sums up the 'Spirit of Green Days' in lockdown better than the fact that several of the Bicycle Draw entrants found the time to hunt out more than six bicycle pictures – and said how much they had enjoyed the search!"
Between them, the 11 entrants found no fewer than 22 photographs with bicycles. These are now displayed in a 'Spirit of Green Days' Flickr album.

"The bicycle photos illustrate how much Green Days has grown over the years but that it remains fundamentally the same St Michael & All Angels church fete it was when it began in 1967 as 'Village Green Day'" said Torin. "We decided to give the prize to the person who found the most, and it was very close."