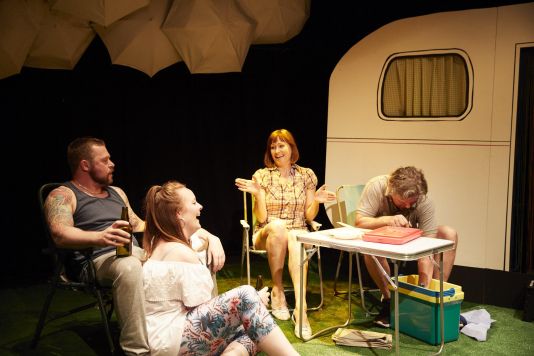 Perfect Pitch - The XV Theatre Company
Tuesday 12 June 2018 to Saturday 23 June 2018
Tabard Theatre
19:30 £15 (15:00 matinees on Thursday and Saturday £12)
The XV Theatre Company are delighted to have been invited back for a fourth year as 'theatre company in residence' for the Bedford Park Festival.
Perfect Pitch, a comedy by John Godber, was first performed in 1998 at the Stephen Joseph Theatre in Scarborough, commissioned by Alan Ayckbourn.
Pictures from Perfect Pitch rehearsals, above and right.

"It's supposed to be a relaxing weekend. I've ruptured myself and lost three stone, and we've only been here twenty minutes."
Ron and Yvonne have gone camping in a caravan bought with Ron's early retirement money. At a cliff's edge, with a view of the sea, they are looking forward to a life of relaxing after stressful careers, to touring in France perhaps, after a trial run in the campsites of England.
But what they imagined would be an uneventful time to themselves is interrupted when Grant, a bull-terrier breeding, middle-aged former miner pitches up next to them with his girlfriend Steph, a girl in her twenties. Their loud arguments, and even louder love-making, breaks the silence Ron and Yvonne had built around themselves, forcing them to accept situations, and home truths, far outside their comfort zone.
Directed by Hazel Collinson
Set designer: Eirini Kariori
Stage Manager: Alice Metcalf
Cast:
Christina Balmer
Christina trained at the National Youth Theatre of Great Britain and Laine Theatre Arts and she is Co-Artistic Director of The XV Theatre Company.
Theatre credits include: Sheila in Relatively Speaking (The Tabard Theatre); Shakespeare on Love (The Tabard Theatre); Alexia in Cast Aside (Bedford Park Festival); Leonata in Much Ado About Nothing (New Wimbledon Theatre and The Drayton Arms Theatre); Gossamer Beynon and Myfanwy Price in Under Milkwood; Helena in A Midsummer Night's Dream and Bianca in Othello (Cambridge Shakespeare Festival); Elise in The Miser (The Mermaid Theatre).
Film includes: Claire in Aftermath; Amaelia in Mantis; Ali in The Break.
TV includes Ana-Frid Lyngstad in ABBA: When All is Said and Done (ITV/Channel 5)
David Kitchen
David trained at LAMDA and, having worked as a fundraising consultant for many household charities these past two decades, Perfect Pitch marks David's return to professional acting. TV credits include: Greg in EastEnders; Jack in Island; The Bill; The Upper Hand; Jo Brand Show; Chez Slamdance; Mr Ma and Son (for Chinese Television).
Theatre includes: Inspector in Accidental Death of An Anarchist (BAC/Edinburgh); Lord Byron in Bloody Poetry (BAC); Sailor in Siren Song (The Almeida). Varied voice-overs.
David wrote and directed the award winning short film, Family Reunion and is entering pre-production on his next project, which he wrote and will be directing, the feature film, Prisoner of '89.
David Paisley
David is best known for playing series regulars 'Ben Saunders' in Holby City and Casualty (BBC); 'Rory Murdoch' in River City (BBC); 'Ryan' in Tinseltown (BBC/Deep Indigo) and Tom Edwards in EastEnders (BBC).
Recent theatre credits include the role of Saki in Life According to Saki (Winner of the Carol Tambor Best of Edinburgh Award); Macbeth at the Wimbledon Studio Theatre; Levin in Anna Karenina, Jack Studio Theatre; Benedick in Much Ado About Nothing, Drayton Arms Theatre; 'Danny Cassidy' in a national tour of Over The Rainbow: The Eva Cassidy Story across the UK and Ireland.

Christie Peto
Christie is from Leeds and studied Drama at Liverpool John Moores University. She spent two years writing and directing shows in Russia and Italy before moving to London, where she now works as an Actress and Drama Workshop Facilitator. Credits include The Silhouette in the Smoke (ImmerCity), The Community (Stockwell Playhouse), A Midsummer Night's Dream (Wildcard Theatre), Pygmalion (Myriad Theatre), Much Ado About Nothing (Wyrd Sisters), Gaslight (Myriad Theatre), and Macbeth (Tigz Theatre). This is Christie's debut at the Bedford Park Festival.
Please find out more about The XV Theatre Company at
http://www.thexvtheatrecompany.co.uk
follow us on Twitter