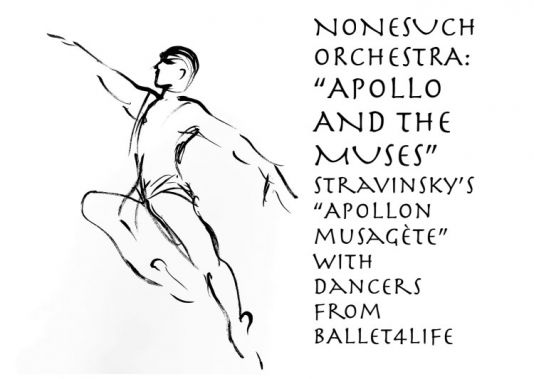 NONESUCH ORCHESTRA: "APOLLO AND THE MUSES"
Saturday 23 June 2018, 19:30
St Peter's Church, Southfield Road
The performance created for children in the Festival will be repeated on Saturday 23rd June at 19.30 at St Peter's Church Acton Green, Southfield Road W4 1BB. The first half of that concert will include the Bach Double Violin Concerto, with soloists Enrico Alvares and Stephanie Waite, and the Mozart Bb Divertimento.
Profits from this concert will go to various charities with local links (see foot of this webpage).
Tickets cost £15, £12, £5
The Nonesuch Orchestra returns to the Festival to give performances designed for children from local prep and primary schools. It is hoped that the children will participate in some dancing and music-making.
This year's programme centres on Stravinsky's ballet Apollon musagète, composed in 1927-28. The Greek god Apollo meets with three of the nine Muses (inspirational goddesses of the arts) - Calliope (Muse of epic poetry), Polyhymnia (Muse of sacred song) and Terpsichore (Muse of dance) - and they dance separately and together before Apollo leads them to his home on Mount Parnassus.
The Nonesuch Orchestra, conducted by Dan Shilladay, will perform the whole work. Dancers from local organisation Ballet4life will dance some of the scenes, newly choreographed by Donna Schoenherr.
The dancers featured are:
Apollo: Christodoulos Christodoulou
Calliope: Sonia Bartlett-Cos
Polyhymnia: Alina Luts
Terpsichore: Beatrice Ghezzi
Donna Schoenherr - Choreographer
Donna hails from Rochester, NY, where she received her early formative training at the prestigious Botsford School of Dance. Her pre-professional training took place in NYC under full scholarship with the esteemed mentor David Howard amongst others. She then embarked on an extensive professional career in classical ballet, contemporary dance and opera companies on both sides of the Atlantic. Sadly, her performance career as a dancer ended prematurely due to a serious knee injury. She then accepted engagements and developed further in Rehearsal Director, Choreographer, Guest Teacher, Mentor, and Assistant-to-the- Director roles. Her choreography has been commissioned by/shown at The Smithy Gallery NY, the Minnesota Ballet, Dansummer Colorado, Jean Cocteau Repertory Theatre, NYC, Dance Now, NYC, Theater aus der Zeche, Germany, The Southern Theater and The Right Here Showcase, MN. She also choreographed the movement in the dance film doubletake, directed by Suzanne Gielgud, which was shortlisted and premiered at the 2010 Marbella International Film Festival.
Donna writes below about her new ballet:
"My Apollo ballet is, I hope, completely new and different and drawing upon my many decades of experience in the world of dance and theatrical and creative projects. I wanted to have respectful references for the Muses and Apollo to their mythological past, but to breathe new life into each persona, and to try to envision how they could be alive and thrive in our modern work. My Apollo is both a god of the sun and the arts and human with boyish qualities, curiosity, playfulness and power. He is interested in both heaven and earth. Calliope is like a beautiful hummingbird, bringing her eloquence, harmony and poetry to all. Polyhymnia is sacred, strong, persuasive, knowledgeable, deep and clever, and her joys of poetry, dance, and pantomime radiate from her movement. Terpsichore is the beauty of dance and dance is her inner and outer beauty as she aces tricky technical movements with ease and grace and fills the world with her joy. They all complement each other and are able to have strong individual personalities yet together they also become one whole larger more encompassing force."
Chiswick has been Donna's home with her husband for 21 years. After their son was of school age, she founded what was to become Ballet4life; a pioneering and thriving programme for adult dance tuition. Ballet4life is now 14 years old, and her registered charity Move into Wellbeing®, providing dance for people with Parkinson's and other mobility restrictions, is an integral part of the community. Donna extends her thanks to all involved for this brilliant opportunity to participate in this inspiring collaboration.
http://www.ballet4life.com/
http://www.moveintowellbeing.org.uk/
Christodoulos Christodoulou - Apollo
Chris, as his friends call him, was born in Cyprus and began dance studies as an adult beginner. Whilst studying for a BA in Visual Performing Arts he took ballet classes and completed ballet exams. He got a dance degree at the State School of Dance in Athens, where he was a member of the Hellenic Dance Company. He got his MA Degree in Scenography/Dance at Trinity Laban, London, under scholarship from the Onassis Foundation. Chris returned to Cyprus as a visual performing artist, collaborated with choreographers and designed lighting for performances. Back in London, Chris started volunteering for the charity Move into Wellbeing® in May 2017.
In September 2017 he was invited to teach for Ballet4life and is a now a regular teacher. He enjoys teaching ballet and contemporary dance to adult beginners and introducing them to the - weird and - wonderful world of dance.
Sonia Bartlett-Cos - Calliope
Sonia is originally from Spain and lives in West London with her husband and two children. She is passionate about dance and music. She says "dancing is my medicine for keeping body and mind healthy". Her training started in ballet as a child and she also trained in Rhythmic Gymnastics on the Vizcaya Team. Additionally, Sonia has studied Jazz, Contemporary, Salsa and Belly Dancing, has taught children, and is a certified Belly Dance Instructor. Post early motherhood, she became a freelance photographer and worked in fashion. Nine years ago she also discovered Ballet4life, became a huge fan and has been actively dancing with them since!
Alina Luts - Polyhymnia
Alina is a Ukrainian-born professional dancer and teacher, with a great focus on character dance. Alina has gained a long list of performing and choreography credits. Her career began in Lviv, Ukraine, where she studied dance for 10 years at the Lviv State Ballet School (the Vaganova School system). She then went on to become a principal dancer for the Aquarius Contemporary Dance Company in Ukraine. Gaining experience in character, jazz, and folk dance Alina has performed leading roles in theatres across Ukraine and has worked as a stage dance instructor and choreographer at the Lviv Theatre for 2 years. She resides in West London with her husband and daughter and has been a dancer at Ballet4life for many years. Alina has recently joined the Ballet4life roster and is now the Character Dance teacher at Ballet4life.
Beatrice Ghezzi - Terpsichore
Beatrice is an Italian dancer and dance teacher, based in London. In Italy she gained a Diploma as ballet teacher with AIDA Ballet Teachers Association and in 2016 she completed her MA in Contemporary Dance at the London Contemporary Dance School.
Beatrice has been teaching ballet and contemporary dance classes for the past 8 years in several vocational and community settings. In particular, she has been working for Ballet4life and the charity Move Into Wellbeing® for the past 6 years, teaching adult ballet and contemporary classes at all levels and movement dance classes for people living with Parkinson's and mobility challenges. Beatrice also holds a first degree in Heritage Preservation.
The Nonesuch Orchestra
The Nonesuch Orchestra was founded in 1961 and has given well over 300 concerts and worked with many distinguished musicians. It focuses on string music from and for all ages and offers a rare opportunity for daytime orchestral music-making. From the start the Orchestra was determined to introduce live classical music to young children, and each year we aim to give five or more concerts in primary schools. Often this is the first time the children have seen and heard a live orchestra but if the school has instrumental teaching, the young players perform alongside us for certain pieces. We give occasional public lunchtime concerts with regular engagements mainly at London venues, such as St John's Greenhill, Harrow, and joint concerts with other groups such as the Lauderdale Suzuki group and the Imperial College String Ensemble, with whom we performed Tippett's Concerto for Double String Orchestra in 2017.
This is our third performance for schools at the Bedford Park Festival, following "Around the World" in 2016 and "Seasons of the Year" in 2017. This is the first time that our performance has featured dance. Good string players are welcome at our Thursday morning sessions in Queen's Park, where we explore the string repertoire from baroque to contemporary with our professional conductor and leader. We also offer post-graduate students a chance to work with us, giving them solo opportunities and experience of music in education. The Nonesuch Orchestra is a registered charity affiliated to Making Music, which represents and supports amateur vocal, instrumental and promoting societies throughout the United Kingdom. As a registered charity we are keen to encourage further sponsorship for our work in promoting classical music for strings in schools and public concerts across London. nonesuchorchestra
Dan Shilladay - Conductor
Dan is in demand as a conductor, educator and a freelance viola player and chamber musician. As well as the Nonesuch Orchestra, he conducts the Imperial College String Ensemble and Stoneleigh Youth Training Orchestra. He is a founder member of the Berkeley Ensemble, which specialises in twentieth and twenty-first century British chamber music. Formed in 2008, the ensemble now enjoys a busy concert schedule, performing in the UK and abroad.
Stephanie Waite - leader of the Nonesuch Orchestra; soloist in the Bach Double Violin Concerto (23rd June only)
Stephanie grew up in a musical family, and began learning to play the violin at the age of 2. She studied at the Guildhall School of Music and Drama Junior Department before going to Cambridge to read English Literature. Once there, she continued her violin studies with renowned violinist Levon Chilingirian, and became an active chamber musician and soloist in the university's thriving music scene.
Following her degree, Stephanie took several years away from playing the violin, working for much of that time as a teacher in one of London's largest prisons, running arts and music projects with the inmates, and setting up Open University courses for those who wanted to further their education.
Eventually, however, she realised that the desire to play the violin had never left her. She studied intensively with Diana Cummings and has, for the last few years, enjoyed a diverse career performing in many orchestras, teaching a small but cherished group of students, and playing chamber music as often as possible.
Enrico Alvares - soloist in the Bach Double Violin Concerto (23rd June only) Enrico's violin studies began at the age of three - with lessons from his father, also a professional violinist. After studying at the Purcell School and the Guildhall School of Music & Drama, and extensive quartet coaching from the Amadeus Quartet, he was invited to become a member of the Academy of St Martin in the Fields, where he stayed for ten years. During this time he worked closely with all three of its artistic directors and with many of the world's greatest soloists and singers. He has also played and recorded with the other major British orchestras.
Enrico is very fortunate to have taken composition lessons from two of the most important contemporary composers - Dmitri Smirnov, with whom he is still studying, and Gyorgy Kurtag. Current composition projects include a string quartet based on motives derived from the names of his three children.
Unusually, Enrico has also excelled in an area of expertise far from the world of music, namely financial investment, and spent several years managing funds as a partner in Nicola Horlick's Bramdean Asset Management. However his all-consuming passion and devotion is unquestionably for great music and violin playing and he is, therefore, also a devoted teacher. Enrico is a Fellow of the Royal Society of Arts and is deeply committed to the Society's goal of finding innovative solutions to social challenges, principally by using skills gleaned from his time in both music and finance.
The profits from the 23rd June concert will be divided between the following four (groups of) charities: (i) Donna Schoenherr's charity Move into Wellbeing®, which offers dance classes to people with Parkinson's and other mobility issues; (ii) the Nonesuch Orchestra, which takes classical string orchestra music to children in schools throughout London; (iii) the Beating Heart W4 Fund for the restoration of St Alban's Church, Acton Green and (iv) the charities supported by the Bedford Park Festival 2018 (The Upper Room, The Amber Trust and WaterHarvest).