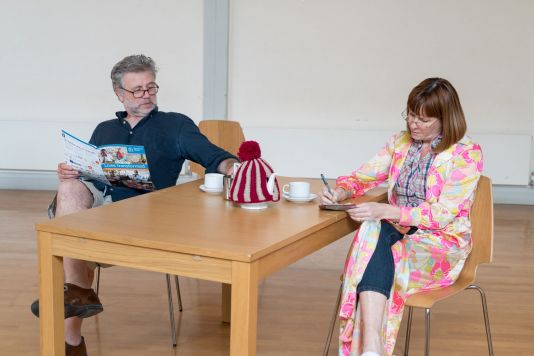 Relatively Speaking: The XV Theatre Company
Wednesday 21 June 2017 to Saturday 24 June 2017
Tabard Theatre
19.30 (and 16:00 Saturday matinee).
£15
Relatively Speaking by Alan Ayckbourn
"The play is a stunning piece of comic craftsmanship which takes a single misunderstanding - a man who airily mistakes his girlfriend's lover and the lover's wife for her parents - and keeps it unbelievably afloat for two hours."
"Stephen [Joseph] asked me simply for a play which would make people laugh when their seaside holidays were spoiled by the rain and they came into the theatre to get dry before trudging back to their land-ladies. This seemed as worthwhile a reason for writing a play as any so I tried to comply."
Produced by The XV Theatre Company
The Cast and Creatives
Co-directed by James Simmons and Adam Leese
Stage Managed by Karen Lack
Patrick Neyman, Actor
Patrick trained at the Drama Centre.
Theatre Includes: Patrick Simmons in A Murder is Announced (UK no.1 tour), John the Alchemist in Stoat Hall (Eastern Angles), Guasto in Edith in the Dark, (Harrogate Theatre), Paul Baptiste in Se7en (Secret Theatre), Rich/Mr.Dill/Alex in Fall Girl (Canal Cafe Theatre/The Gilded Balloon), Benny Lucas in Ace of Clubs (The Union Theatre), Lysander in A Midsummer Night's Dream, (Fort Lovrijenac, Dubronvik, Croatia), Elder/Officer in Valentines (Tigz Theatre), Lee in Lethal Combination (Descent Shorts), Prince/Paris/Chorus in Romeo and Juliet (Pot Kettle Black Productions), Darren in Caravan (Little Pieces Of Gold) Various in The Collective Project (The Pensive Federation), Brackenbury / King Edward in Richard III (Cambridge Shakespeare Festival), Pisanio/Caius Lucius in Cymbeline, (Cambridge Shakespeare Festival), Sebastian in Hunter, (The Tabernacle Theatre) Eadric in Silence (Large Print Theatre Company) Devil/Rakitin in The Brothers Karamazov (Theatre Collection), Adrien in A Woman of No Importance...Or Somewhat Little Importance Anyhow (Hen And Chickens), James Darke in Who the James is Jim Darke?, (Eat My Depth Productions) Ivan Vasilievich in The Proposal (Platform Theatre). Film Includes: Jamie in The New 22 (Manuka Road Productions).
Freya Alderson, Actor
Freya trained at Drama Studio London and previously at the National Youth Theatre. Credits include; Much Ado About Nothing (New Wimbledon Theatre Studio), Macbeth (Lion and Unicorn Theatre), Don't Trust Salmon (Leicester Square Theatre), Love Sonnet Rose (Rose Theatre, Bankside), The Twits (Old Red Lion), Alice on Wonderland (National Tour), Romeo & Juliet (Grange Court Theatre). Film; Emily (Tyneside Films), The Conkerers (Bridge and Tunnel) and Sod's Law (Synched Films/Channel Four). Freya is also a trained puppeteer and performed at the Royal Opera House in Wagner's Ring Cycle. She specialises in Body, Bunraku, Rod and Marionette work…see if you can see the strings in this production….!
Steve Watts, Actor
Theatre credits include: Romeo and Juliet and Macbeth (Image); As You Like It (Cheek by Jowl; World tour/Albery); The Great Gatsby (European tour), Cabaret (Queen's, Hornchurch), Into The Woods (Theatre Royal, York), Assassins (New End, Hampstead), Enter The Guardsman (QE2), Pickwick (Haymarket, Basingstoke), Jumpers (National/ Piccadilly), Pinafore Swing, Mack and Mabel, Plunder, Merrily We Roll Along, Wind in the Willows, Oliver! (Watermill, Newbury); A Midsummer Night's Dream, Macbeth, Lady Be Good and The Boyfriend (Open Air, Regent's Park); My Fair Lady (Theatre Royal, Drury Lane/UK Tour), Chariots of Fire (Gielgud), Relatively Speaking (Wyndham's), Mikado (Charing Cross), Roadshow (Union), Allegro (Southwark).
Christina Balmer, Actor
Christina trained at the National Youth Theatre of Great Britain and Laine Theatre Arts. Previous appearances at the Bedford Park include Under Milk Wood and The Queen of Mont Blanc (2014); Cast Aside for XV Theatre (2015) and Shakespeare On Love for XV Theatre (2016). Other theatre credits include: Leonata in Much Ado About Nothing (New Wimbledon Theatre and The Drayton Arms Theatre); Helena in A Midsummer Night's Dream and Bianca in Othello (Cambridge Shakespeare Festival); Elise in The Miser (The Mermaid Theatre).Film includes: Mantis (Robert Green) The Break (Seagrave Films). She is a National Youth Theatre Associate and co-founder of The Fifteen.