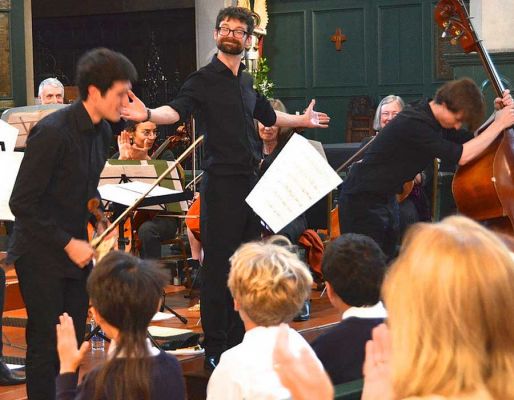 Nonesuch Orchestra: "Seasons of the Year"
Thursday 22 June 2017
St Michael and All Angels Church
Two Performances 10:45 and 13.30. The orchestra will be rehearsing with the students before 10:45. Parents should not expect to arrive until 10.30am at the earliest.
£5
A journey through all four seasons of the year - a concert designed for children but open to all. It is hoped that young audience members will participate in some music-making during the concert. The Nonesuch Orchestra, directed by Dan Shilladay, will perform a programme of music on the theme "Seasons of the Year" including: Extracts from Vivaldi's "Four Seasons" (solo violin: Stephanie Waite); Tchaikovsky's "Nocturne for Cello and String Orchestra" (solo cello: Joanna Gutowska); Holst's "Dargason" from "St. Paul's Suite"; Gershwin's "Summertime"; and "Sumer is Icumen In".
The Nonesuch Orchestra
The Nonesuch Orchestra was founded in 1961 and has given well over 300 concerts and worked with many distinguished musicians. It focuses on string music from and for all ages and offers a rare opportunity for daytime orchestral music-making. From the start the Orchestra was determined to introduce live classical music to young children, and each year we aim to give five or more concerts in primary schools. Often this is the first time the children have seen and heard a live orchestra but if the school has instrumental teaching, the young players perform alongside us for certain pieces. We give occasional public lunchtime concerts with regular engagements mainly at London venues, such as St John's Greenhill, Harrow, and joint concerts with other groups such as the Lauderdale Suzuki group and the Imperial College String Ensemble, with whom we performed Tippett's Double Concerto for Strings earlier this year.
Good string players are welcome at our Thursday morning sessions in Queen's Park where we explore the string repertoire from baroque to contemporary with our professional conductor and leader. We also offer post-graduate students a chance to work with us, giving them solo opportunities and experience of music in education. The Nonesuch Orchestra is a registered charity affiliated to Making Music, which represents and supports amateur vocal, instrumental and promoting societies throughout the United Kingdom.
Dan Shilladay (conductor)
Dan is in demand as a conductor, educator and a freelance viola player and chamber musician. As well as the Nonesuch Orchestra, he conducts the Imperial College String Ensemble and Stoneleigh Youth Training Orchestra. He is a founder member of the Berkeley Ensemble, which specialises in twentieth and twenty-first century British chamber music. Formed in 2008, the ensemble now enjoys a busy concert schedule, performing in the UK and abroad.
Stephanie Waite (leader and solo violin)
Stephanie began learning to play the violin at the age of 2. She studied at the Guildhall School of Music and Drama Junior Department before going to Cambridge to read English Literature. Once there, she continued her violin studies with renowned violinist Levon Chilingirian, and became an active chamber musician and soloist in the university's thriving music scene. Following her degree, Stephanie took several years away from playing the violin, working for much of that time as a teacher in one of London's largest prisons, running arts and music projects with the inmates, and setting up Open University courses for those who wanted to further their education. Eventually, however, she realised that the desire to play the violin had never left her. She studied intensively with Diana Cummings and has, for the last few years, enjoyed a diverse career freelancing, teaching a small but cherished group of students, and playing chamber music as often as possible.
Joanna Gutowska (solo cello)
Joanna Gutowska is a cellist of the young generation already recognized for her intensely expressive music making, personal character of playing and exceptional virtuosity. She made her debut as a soloist performing Goltermann's Cello Concerto in G-major at the age of 12. Since then she has appeared in concerts and festivals around the world as a concerto soloist, recitalist and chamber musician. This year she will make her debut on BBC Radio 3. In 2016 Joanna Gutowska received the Sapere Auso Foundation scholarship for her outstanding achievements. Currently she is studying for a Masters Degree at the Royal Academy of Music, London, under the supervision of Christoph Richter, supported by a scholarship from the Clumber Studio. joannagutowska.eu