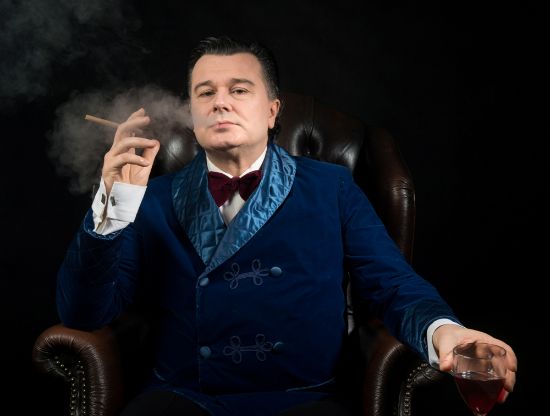 Hauntings
Friday 17 June 2022, 19:30
St Michael and All Angels Parish Hall
£10
Hauntings is an evening of three tales of the supernatural from two of the world's greatest writers of ghost stories, E.F. Benson and M.R. James. With Gerard Logan.
Two of the world's greatest exponents of spooky yarns contribute their genius to an evening
of masterful storytelling from Gerard Logan that will set pulses racing and send shivers
down the spine. From E. F. Benson, famed for his Mapp and Lucia comic novels comes
Naboth's Vineyard where just desserts are meted out to an unscrupulous lawyer, and from
the acknowledged master of the genre, M.R. JAMES comes Oh, Whistle , and I'll come to you
my Lad where a conjured medieval spirit strikes terror into a sceptical professor.

GERARD LOGAN (Actor) last appeared at the Bedford Park Festival performing Oscar Wilde's
searing poem The Ballad of Reading Gaol. Gerard trained at the Royal Academy of Dramatic
Art. He has played leading roles in TV, film and radio and leading classical and contemporary
roles with the Royal Shakespeare Company (where he received an Olivier Award
nomination), the National Theatre and in the West End. He won The Stage Newspaper's
"Best Solo Performer" Award at the 2011 Edinburgh Festival for his performance in
Shakespeare's The Rape of Lucrece and the "Best Actor" award at the 2014 Buxton Theatre
Festival for his performance as Oscar Wilde in Wilde Without the Boy. Gerard is currently
touring nationally and internationally with The Rape of Lucrece, Wilde Without the Boy / The
Ballad of Reading Gaol and, most recently, Night Terrors – the Ghost Stories of E F Benson,
all created in collaboration with Gareth Armstrong and Simon Slater.

GARETH ARMSTRONG (DIRECTOR), who has been associated with the Festival for many
years, brought his production of Hugh Whitemore's play My Darling Clemmie, starring
Rohan McCullough to a sold out audience in 2019. He also wrote an original play for the
BPF, Fondly Remembered, which premiered at the Tabard Theatre (now The Chiswick
Playhouse) in 2015. Gareth has combined the careers of actor, director and writer over five
decades in the theatre, and his work has taken him to over sixty countries. He specialises in
the creation of solo theatre pieces and is a published author and playwright.

Simon Slater (Composer) Simon has composed original music for over 350 theatre, film,
television and radio productions. Recent theatre: Love Love Love (Lyric Theatre) Amadeus
at the National Theatre-2017 and 2018 , Killology –winner of an Olivier 2018
(Sherman/Royal Court) the award winning Constellations (Vaudeville Theatre, Duke of York's
and Royal Court, New York) for which he was nominated for an Olivier Award. Europe
(Donmar Warehouse) King Lear, Carmen Disruption (Almeida), Tis Pity She's a Whore, The
Broken Heart, A Winter's Tale (The Globe and Sam Wanamker).