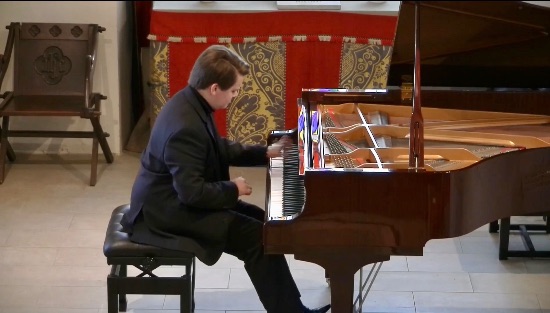 Recital by Mark Viner
Thursday 24 June 2021, 19:00
St Michael and All Angels Church
Distinguished British concert pianist, Mark Viner, offers a compelling programme of Beethoven and Liszt.
£12
Programme
Ludwig van Beethoven (1770-1827)
Sonata, op.31 no.3 "The Hunt"
i. Allegro
ii.Scherzo. Allegretto vivace
iii.Menuetto. Moderato e grazioso
iv. Presto con fuoco
Franz Liszt (1811-1886)
Légendes, S.175
no.1 St. François d'Assise - La prédication aux oiseaux
no.2 St. François de Paule marchant sur les flots
Ludwig van Beethoven (1770-1827)
Sonata, op.57 "Appassionata"
i. Allegro assai
ii. Andante con moto
iii. Allegro ma non troppo
Described by International Piano Magazine as "one of the most gifted pianists of his generation", Mark Viner is steadily gaining a reputation as one of Britain's leading concert pianists; his unique blend of individual artistry combined with his bold exploration of the byways of the piano literature garnering international renown.
​Born in 1989, he began playing at the age of 11 before being awarded a scholarshiptwo years later to enter the Purcell School of Music where he studied with Tessa Nicholson for the next five years. Another scholarship took him to the Royal College of Music where he studied with Niel Immelman for the next six years, graduating with first class honours in a Bachelor of Music degree in 2011 and a distinction in Master of Performance 2013; the same year which afforded him the honour to perform before HRH the Prince of Wales.
​After winning 1st prize at the Alkan-Zimmerman International Piano Competition in Athens, Greece in 2012, his career has brought him across much of Europe as well as North and South America. While festival invitations include appearances the Raritäten derKlaviermusik, Husum in Germany, the Cheltenham Music Festival and Harrogate Music Festival in the United Kingdom and the Festival Chopiniana in Argentina, radio broadcasts include recitals and interviews aired on Deutschlandfunk together with frequent appearances on BBC Radio 3. His acclaimed Wigmore Hall début recital in 2018 confirmed his reputation as one of today's indisputable torchbearers of the Romantic Revival.
He is particularly renowned for his CD recordings on the Piano Classics label which include music by Alkan, Chaminade, Liszt and Thalberg, all of which have garnered exceptional international critical acclaim. His most important project to date is a survey of the complete piano music of Alkan: the first of its kind and which is expected to run to some 18CDs in length. Aside from a busy schedule of concerts, he is also a published composer and writer and his advocacy for the music of Alkan and Liszt led to his election as Chairman of both the Alkan Society and the Liszt Society in 2014 and 2017 respectively. He is a resident of Bedford Park where he is in demand as a teacher.
"Beguiling" – The Guardian
"He is undoubtedly one of the most gifted pianists of his generation a supple, virtuosic player who seems to turn every technical challenge into a musical asset, excelling in repertoire that few others have touched." – International Piano Magazine
"Clearly he's got about three hands… incredibly impressive playing" – BBC Radio 3 (Record Review)
"From Viner's fingers the iridescent showers of notes cascade with scintillating exuberance a blazing young British talent" – Gramophone Magazine