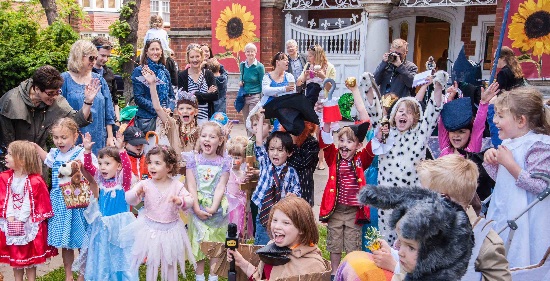 Fancy Dress Competition - 'Heroes'
Monday 8 June 2020 to Saturday 13 June 2020, 10:30
Entries up to age 10 by photograph and/or video. Start making your 'Heroes' costume - entries close at 5pm on Saturday June 13th.
Congratulations to the winners:
1st - James, aged 9: Isambard Kingdom Brunel
2nd - Juliette, aged 8: Amazing superhero who can cure anyone from coronavirus
3rd - Rosa, aged 4: My hero is my Nanaji - Nanaji means grandfather in Punjabi
You can see their pictures - and those of other entrants - in our Flickr album.

Donations
There was no entry fee, but the Festival is raising money for St Michael & All Angels and its three charities, and we hope you would like to make a donation. Please click the link above!
Judging
The judging was conducted by Jeremy Vine, who opened the virtual Festival this year.

Normally we start the Green Days fete with a Fancy Dress Parade. We couldn't do that this year - but we still held the Fancy Dress Competition via photographs! This year's theme was 'Heroes' - and children and parents could interpret this in any way they liked. Every entrant received a Fouberts icecream voucher. The closing date was Green Days Saturday, June 13th at 5pm. The winners each received a book prize and a generous Fouberts voucher.