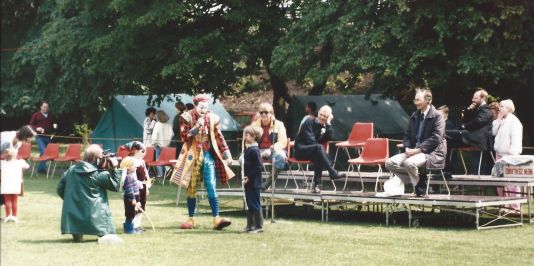 Green Day 1988 - The Film
Sunday 24 June 2018, 12:00
St Michael and All Angels Parish Hall
Free
30 years ago in 1988, Ruth Joseph and Derek Coutts (seen filming above) made a half-hour film of Green Day. It has never been shown since. In the Raphael Room of St Michael & All Angels Parish Hall, Bath Road, W4, on Sunday 24 June, you can watch the film free of charge. See how Green Days has changed and spot lots of familiar faces, including Nigel Woolner, Oliver West, Ruth Joseph, Robin Coutts, Fr Perry Butler, Eileen McGregor, John Hudnott and many more.
The first showing will be from 12noon till 12.30, following the Festival Mass in the Church. Then, after the Festival Mass lunch in the Vicarage Garden, it will be shown every half hour from 2pm onward during the Bedford Park Open Gardens and Cream Teas.
See more pictures of Green Days moments in the 1980s.