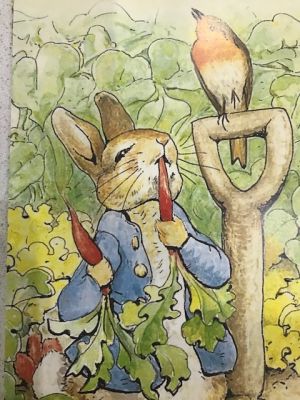 Turnham Green Terrace Treasure Hunt
Friday 25 May 2018 to Friday 8 June 2018
Turnham Green Terrace
Can you spot the pictures of Peter Rabbit & Friends?
We've put 16 pictures in the windows of Turnham Green Terrace shops. Find all 16 and say which character is your favourite and why, and you could win a prize from Disney! Scroll down for a list of the characters.
Pick up a free entry form at Trotters, 84 Turnham Green Terrace, W4 1QN. Entries close at 5pm on Friday 8 June 2018. Age 10 or under. One entry per child.

And join in the Fancy Dress Parade: Peter Rabbit & Friends
Open to under-10s! Come dressed as a Peter Rabbit character to St Michael & All Angels Parish Hall at 10.30am on Saturday 9 June 2018. Parade starts at 11am. Judging after the opening ceremony. Prizes for the best costumes.
Here are the 16 characters you can look for in the shop windows:
Benjamin Bunny, Old Brown and Squirrels, Peter Rabbit, Tom Kitten, Tommy Brock (badger), Mr McGregor, Mrs Tittlemouse, Jeremy Fisher (frog), Mrs Tiggy-Winkle (hedgehog), Mr Tod (fox), Mrs Rabbit, The Flopsy Bunnies, Jemima Puddleduck, Samuel Whiskers, Squirrel Nutkin, Beatrix Potter