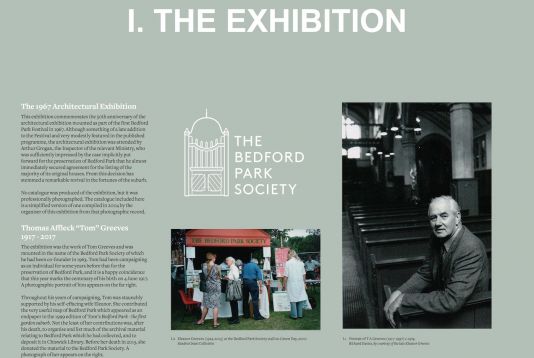 The Exhibition That Saved Bedford Park - Celebrating 50 Years
Saturday 10 June 2017 to Saturday 24 June 2017
St Michael and All Angels Church
Open daily when the church is open (times vary) (and at The Golden Jubilee Garden Party)
Admission Free
A display by Dr David Budworth MBE, The Bedford Park Society's Historical Adviser, about the 1967 Festival Exhibition that led to the listing of 356 Bedford Park houses - and what has happened since.
The Bedford Park Festival helped save the area from developers. In 1967, Victorian buildings were out of fashion, the area was run down, and some of the largest and finest houses had been demolished to make way for modern blocks of flats.
The Bedford Park Society was formed in 1963 by two local residents: Harry Taylor, a community activist, and Tom Greeves, conservationist and architect, with John Betjeman, the poet and heritage campaigner, as the Society's first patron. They were horrified by the rash of demolition and inappropriate development and decided to act after a large Norman Shaw house in Bedford Road was replaced by a yellow-brick, flat-roofed old people's home.
The breakthrough came with an exhibition staged by the Society in the Vicarage as part of the first Bedford Park Festival in 1967, highlighting the history of Bedford Park and the dangers it faced. Read some more of the background in 'The Saving of Bedford Park'.