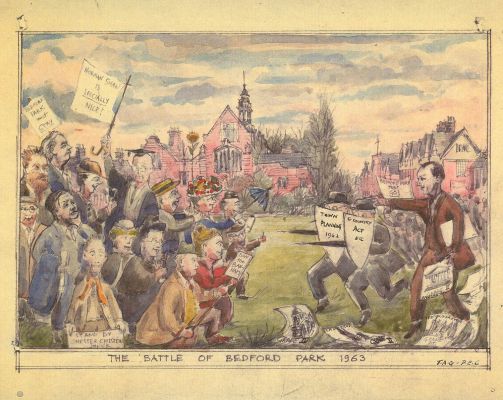 Golden Jubilee Garden Party
Saturday 24 June 2017, 15:00 to 18:00
7 Queen Anne's Grove W4 1HW
by kind permission of Ian and Tracey Hall.
£15
BOOK NOW!
For many years, the annual garden party was a popular feature of the Bedford Park Festival. So put on your finery and celebrate 'The Festival that Saved Bedford Park' in one of its most beautiful gardens, with the Bedford Park Society. There'll be afternoon tea, a few toasts and a pay-bar.
In 1963, the Society was set up to try to protect the area from developers, including the local council. The Battle for Bedford Park began. In July 1967, 356 of the area's fine Arts & Crafts houses were listed for preservation, following the Society's Exhibition at the first Bedford Park Festival. Read more about what happened in 1967 in 'The Saving of Bedford Park'.
At 4pm, there will be a toast by Nigel Woolner, president of the Bedford Park Society, to those who founded Bedford Park in the 1880s - as the first garden suburb - and another, by local architect John Scott, to those who saved it from demolition in the 1960s.

And John Rowe, actor and local resident, will read from the words of John Betjeman, first patron of the Society and of the Festival, who described Bedford Park as "probably the most significant suburb in the Western world".